Auto accidents occur suddenly and without warning.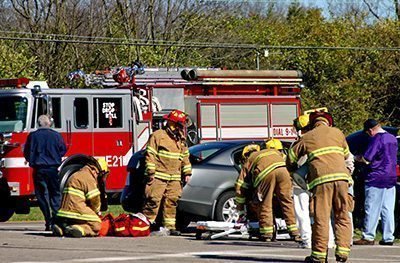 In a split second your life can be turned upside down. Faced with a debilitating injury and unable to work, you are unable to pay your bills and support your family. Your vehicle is damaged beyond repair. You do not know what to do. Your family and friends will give you advice based upon their personal experiences. Don't be persuaded. Everybody's case is different. Your rights to recovery will be determined by the jurisdiction where the accident occurred, the extent of your injuries, and the insurance coverage available. Do not go down this course blindly. Consult an experienced personal injury attorney.
I have practiced personal injury law for 39 years. I will meet with you to personally to discuss your case. I will also:
Visit the crash site.
Photograph the scene and property damage.
Interview witnesses.
Obtain a crash report.
Assemble your medical and earnings records.
Assess the insurance coverage.
File the appropriate insurance claims.
Negotiate a fair settlement of your bodily injury and property damage claims.
And if the insurance company does not offer a fair settlement, file suit and proceed to trial.
Auto Accidents – Florida
Florida has enacted a no-fault system. Every driver is required to maintain Personal Injury Protection (PIP) coverage on his/her vehicles. PIP insurance provides $10,000 coverage to the driver and each occupant of the insured's vehicle, as well as, to relatives living in the same household who suffer bodily injury or death in a motor vehicle accident.
PIP coverage provides death benefits and for the payment of 80% of all reasonable expenses for medically necessary services and treatment up to $10,000. Also included are disability benefits which provide reimbursement for 60% of any loss of gross income. The benefits are payable within 30 days after the insurance company is furnished written notice of a covered loss.
The Florida legislature has restricted the rights of persons injured in an automobile accident to recover in tort from the responsible party and its insurance company. An injured person may receive damages in tort for pain and suffering, mental anguish and inconvenience only in the event that the injury consists in whole or in part of:
A significant and permanent loss of an important bodily function;
A permanent injury within a reasonable degree of medical probability other than scarring or disfigurement;
Significant and permanent scarring or disfigurement; or
Death


Florida Statute of Limitations
The Florida Legislature has shortened the statute of limitations for all actions founded in negligence to TWO YEARS. If a lawsuit is not timely filed within the statute of limitations, any claim that you have for monetary damages is forever barred.