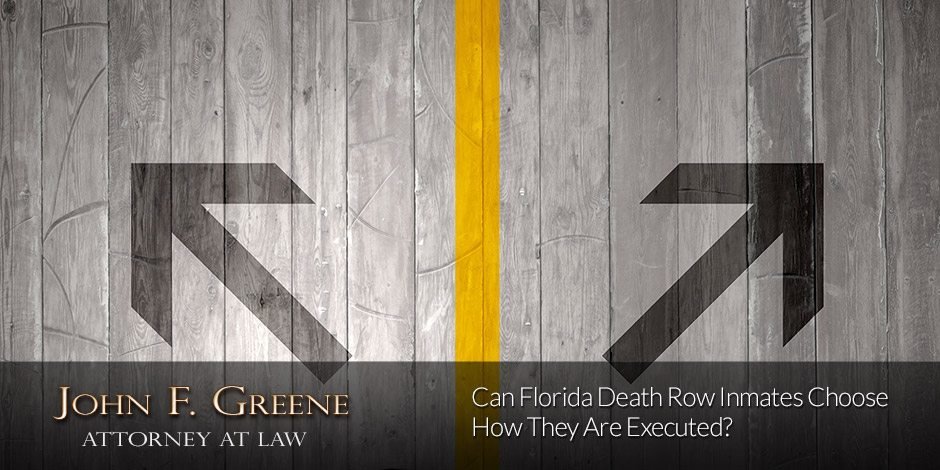 When a Florida inmate is sentenced to death row, their cause of death is generally thought to be out of their control unless their lawyer can find evidence to exonerate them while waiting on death row. This may not be the case, however, as Florida law may make it possible for inmates to choose their preferred method of execution.
Florida Inmate Requests Electric Chair
Wayne Doty, considered to be one of the most dangerous inmates in the country, has requested the electric chair while awaiting his fate on death row. Doty, a twice-convicted killer who was convicted for killing a worker at a Plant City manufacturing plant in 1996, also was charged with murdering a fellow inmate at Florida State prison.
Doty has foregone the right to appeal the death sentence and has stated his intention to not have a lawyer represent him. Most interestingly, however, is Doty's desire to be put to death by the electric chair, wishing to avoid an execution by lethal injection. According to Doty, individuals have the right to choose their own destiny, arguing that since it was his crime, he should also choose the means of his execution.
Doty's reasons for requesting the electric chair are perhaps as confounding as the request itself. Doty claims that he dislikes needles and that his work experience as a former welder led him to conclude that electrocution is a more humane execution. The state of Florida, however, disagrees with this assessment.
In 1999, Allen Lee Davis was a triple murderer who was sentenced to death by electric chair. The execution went horribly wrong, as Davis bled extensively from the nose in shocking fashion, which drew national attention. Shortly thereafter, then-Governor Jeb Bush made lethal injection the state's primary means of implementing the death penalty. Since then, using the electric chair has fallen out of favor, being largely viewed as an outdated and inhumane form of execution.
However, a rarely used law in Florida exists that gives inmates the legal right to exercise a one-time option to request their preferred means of execution, which Doty has exercised. For this reason, it is likely that the state will be required to grant Doty's wish.
Interestingly, these developments come at a time where Florida's death penalty law has been thrown into chaos after recent rulings from the Supreme Court. Legal experts have said that the aftermath of this legal turmoil can lead to nearly half of the state's death row inmates having new trials or a reversal of their sentences.
Even so, Doty has waived his right to appeals, despite being one of those inmates. If you have been charged with a serious crime that could lead to life in prison or even capital punishment, you need a Florida criminal defense lawyer who will raise all possible legal defenses on your behalf.
---
John F. Greene is a criminal defense lawyer who does just that from his Destin office. John represents criminal defendants and individuals who have been charged with crimes in Northwest Florida and the Emerald Coast, including Santa Rosa, Walton, Bay and Okaloosa Counties. John also fights to raise a strong legal defense for defendants in the communities of Destin, Niceville, Fort Walton Beach, Panama City and Santa Rosa Beach.
Whether you need a legal defense against charges or a lawyer who will use every legal avenue to get a wrongful conviction overturned, John will fight for your legal rights. Contact attorney John F. Greene or call 850-424-6833.