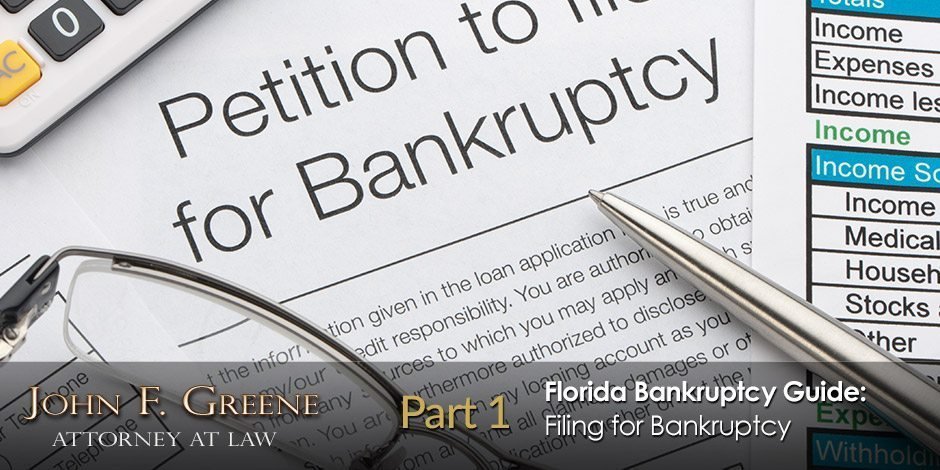 Florida bankruptcy is a trying and stressful ordeal, but this Guide to Filing for Bankruptcy in Florida ought to demystify much of the bankruptcy process. Here are a few of the key elements of bankruptcy to keep in mind.
Paperwork Needed for a Florida Bankruptcy
Before the bankruptcy process begins in earnest, debtors must gather the paperwork needed to itemize all current income sources, debts, and expenditures.
Examples of paperwork a debtor will need include:
Monthly Living Expenses
Debts (Both Secured and Unsecured)
Real Property
All Assets and Possessions
The Past Two Years of Tax Returns
The Past Two Years of Financial Transactions
Real Estate Deeds
Title for Cars and Other Vehicles
Loan Documents
Once a debtor gathers these documents, a Florida bankruptcy attorney will help the debtor take the next steps.
Legal Requirements for Individual Debtors in a Florida Bankruptcy
Florida's 2005 Bankruptcy Act requires all individual debtors to undergo credit counseling within six months prior to a bankruptcy filing. Then, after the debtor files for bankruptcy, a financial management instructional course must be completed.
Additionally, the 2005 Bankruptcy Act allows attorneys and bankruptcy courts to examine the debtor's financial paperwork to gain a better understanding of the debtor's income and expenses. This information is used to assess whether the debtor is qualified to file a Chapter 7 or Chapter 13 bankruptcy.
The state of Florida employs a means test, meaning the bankruptcy courts will look at the debtor's average income 6 months prior to filing. This income is then compared to Florida's median income. If income is below the state median, the debtor may choose a Chapter 7 filing.
However, if income exceeds the state's median income, subsequent inquiries under the means test are used to determine if a Chapter 7 filing is still allowed under Florida law. If a Chapter 7 filing is unavailable, the debtor must then file for bankruptcy under Chapter 13.
Filing for Bankruptcy
Once the debtor knows which chapter to file under, a Florida bankruptcy attorney will help the debtor complete the filing process. To file, a two-page petition and other pertinent bankruptcy forms must be completed. These forms are referred to as "schedules". These documents ask the debtor to explain their financial status and transactions.
Give your attorney accurate information from the outset since the schedules can be used by judges and/or creditors to jeopardize the outcome of a bankruptcy petition if the debtor has not been honest.
A Chapter 7 filing costs $335 ($245 filing fee + $75 administrative fee + $15 trustee surcharge), and a Chapter 13 filing costs $310 ($235 filing fee + $75 administrative fee).
The Automatic Stay
Once the debtor has officially filed for bankruptcy, an automatic stay occurs immediately. This stay provision prevents any and all creditors from contacting the debtor. Additionally, creditors may not stake a claim on any of the debtor's property from the day of filing.
Most importantly, Florida foreclosure proceedings are stopped through the automatic stay. Once the automatic stay takes hold, the debtor should rely on an experienced Florida bankruptcy to attorney to navigate the rest of the bankruptcy process.
---
John F. Greene is a Destin bankruptcy attorney whose primary office is located in Destin. From his Destin office, he represents clients along the Emerald Coast and throughout Northwest Florida in Okaloosa, Walton, Santa Rosa and Bay Counties. Additionally, he represents the communities of Destin, Fort Walton Beach, Niceville, Santa Rosa Beach and Panama City.
If you are a looking for a trusted Florida bankruptcy attorney, contact John F. Greene or call 850-424-6833.
To learn more about bankruptcy, review all four parts to this guide: