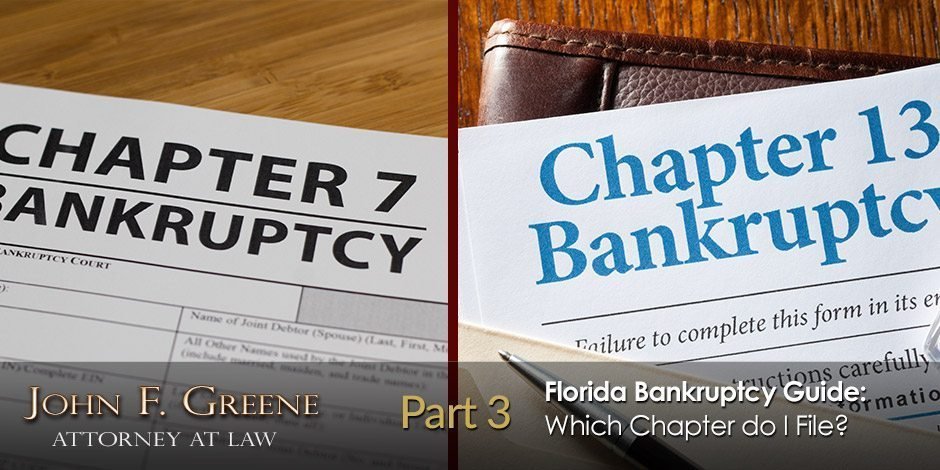 One of the most crucial determinations to make for your Florida bankruptcy pertains to choosing the ideal bankruptcy chapter that is best for your needs and unique situation. As always, a Florida bankruptcy attorney will give you the specific advice you need, but here are a few general rules that provide a rough outline of the bankruptcy chapter that is likely best for your circumstances.
When Florida Law Forces You to File With a Given Chapter
The 2005 Bankruptcy Means Test may force you to file a Chapter 13 bankruptcy if you do not qualify for a Chapter 7 filing. Florida bankruptcy courts apply a means test to determine the chapters that are available to a debtor.
In using this test, the courts look at the average income of a debtor in the past six months prior to filing. If the debtors' past six months of income are below Florida's median income level, the debtor may file a Chapter 7 bankruptcy. If their income is higher than the state median, additional parts of the means test will be used to determine if a Chapter 7 filing is possible.
The further steps of this test require the debtor to calculate their income and expense information. A Florida bankruptcy attorney should be consulted to ensure this information is entered correctly. Once the information is obtained and calculated, the debtor must subtract all allowed expenses from Florida from your income to determine the amount of income you have to pay unsecured creditors under a Chapter 13 bankruptcy plan.
If you do not have enough disposable income to make a significant monthly payment towards your credit card debts and unsecured debts alike, you may be able to file a Chapter 7 bankruptcy.
When you have a choice between bankruptcy choices, there are a number of key considerations to keep in mind.
Choosing Between Chapter 7 and Chapter 13
In general, it is best to choose a Chapter 13 bankruptcy in the following situations:
You do not qualify for Chapter 7 (as explained)
You prefer to repay debt to creditors
You wish to save your home and/or car
Your debts are primarily nondischargeable under Chapter 7
In a Chapter 7 bankruptcy, it is less likely that creditors will not repossess secured debts. While the debtor is absolved of payment responsibilities, creditors may still come and repossess collateral such as homes and vehicles.
A Chapter 13 bankruptcy is an excellent alternative in such instances since the debtor will enter a repayment plan. Filing for Chapter 13 engages an automatic stay that prevents a debtor's home from being foreclosed upon once a Chapter 13 bankruptcy is filed.
A Chapter 7 bankruptcy, by comparison, is best when:
You cannot repay debts in a repayment plan
You need rapid relief from creditors
The bulk of your debt is dischargeable
When Florida debtors lack the ability to repay creditors and need a discharge order quickly, a Chapter 7 bankruptcy can be a huge relief. And, if most of the debt stems from credit card debt, medical bills and personal loans, the dischargeable nature of these types of debt make a Chapter 7 filing extremely appealing. Debtors should note, however, that homes and cars may be lost in a Chapter 7 filing.
---
In either case, you need a Florida bankruptcy attorney who is committed to helping you through the complexities of bankruptcy. John F. Greene is a bankruptcy attorney who represents clients from his Destin office. Additionally, John represents clients throughout the Emerald Coast and Northwest Florida, including Okaloosa, Walton, Santa Rosa and Bay Counties. John also assists the communities of Destin, Fort Walton Beach, Niceville Santa Rosa Beach and Panama City with their bankruptcy case.
Contact John F. Greene or call 850-424-6833 to work with a committed Destin bankruptcy attorney who is fully committed to helping you through bankruptcy so you can reclaim control of your financial outlook.
To learn more about bankruptcy, review all four parts to this guide: