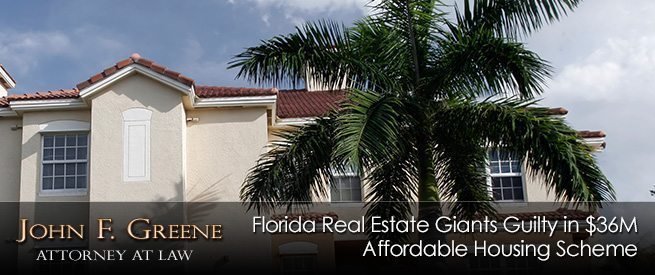 Recently, Carlisle Development Group CEO Matthew Greer, Gonzalo DeRamon and Michael Cox of the Biscayne Housing group, Michael Runyan of BJ& K Construction and Rene Sierra of Plantation-based Siltek Affordable Housing LLC were charged with stealing approximately $36 million in federal government funds, according to the U.S. Attorney's Office. The U.S. Attorney's Office reported that the scheme ran from 2007 through 2012. The five conspired and submitted inflated contracts for low-income housing developments.
Federal Funds and Grants
The federal government issues funds to developers as an incentive to construct low-income housing. To obtain these federal funds, developers must submit proposed development costs, including signed contracts by contractor and developer.
But, these real estate moguls didn't use the funds appropriately. In this case, these five real estate moguls inflated the construction costs to obtain excess federal funds for personal use and benefit. According to a court document, the complexes in question included, Wahneta Palms, Everett Stewart Senior Village, Brownsville Transit Village II, II and IV, Ponciana Grove, Bonita Cover, Notre Dame, Georgia Ayers and Casa Matias.
By the time the charges were announced in August, the U.S. Attorney's Office had already located $10 million of the ill-conceived funds through seizure warrants. This money was returned to the U.S. Treasury Department. U.S. Attorney Wifredo A. Ferrer stated that real estate giants were "Motivated by personal greed, the defendants are charged with stealing tens of millions of dollars of federal funds intended for the construction of housing for the poor, the homeless, and the elderly of South Florida," U.S. Attorney Wifredo A. Ferrer. Our office will vigorously pursue those who line their pockets with federal resources that are intended to benefit vulnerable individuals and families."
Both during and after the construction of the real estate developments, the contractors would make periodic kickback payments of the inflated construction monies to each other. Greer even set up shell companies with the names of Caesar and Cleopatra Investments and Marquesas to collect illicit payments secretly. Using government money for fraudulent get-rich-quick schemes for personal benefit is a definite no-no, and one which backfired for these real estate giants.
Charges and Plea
Gonzala DeRamon was charged with two counts of conspiracy to commit theft of government property and money – a violation of Title 18 U.S. Code Section 371. He's facing a statutory maximum of five years in prison for each count. Michael Cox and Michael Runyan were charged with one count of conspiracy to commit theft of government money – a violation of Title 18 U.S. Code Section 371.
At a plea hearing, Michael Cox, Gonzalo DeRamon and Michael Runyan pleaded guilty to one conspiracy charge, two conspiracy charges and one conspiracy charge. Likely, the three real estate moguls' defense attorneys recommended the guilty plea instead of going to trial due to the strong evidence against the three defendants. If the defendants went to trial and were convicted, the sentence would likely be worse. Sometimes, judges deliberately increase the defendant's sentence to punish the defendants for insisting on a jury trial. Defense attorneys call this a trial tax.
How the Investigation Began
The federal investigation of Carlisle Development began when two senior executives quit the company and went to the U.S. Attorney's Office with their allegations of fraud. They assisted the U.S. Attorney's Office, the IRS and the FBI in the investigation and were not charged. Previously, Carlisle Development has been one of the largest affordable housing developers in the nation. Carlisle Development was forced to sell off its few remaining Miami-Dade projects to another development company.
Due to the subprime mortgage scandal, federal and state law enforcement authorities now give greater scrutiny to real estate development projects and construction loans. If any information provided on a construction loan application is incorrect, allegations of fraud can occur. In this case, it's best to hire a criminal defense attorney to convince authorities that false information was not intentionally provided.
---
To learn more about real estate schemes in Florida or criminal defense, contact Destin Florida defense attorney John F. Greene. With 30 years of experience working with defendants in both state and federal courts Attorney Greene will review the facts of your case and, if there is a remedy for your legal issue, he will find it.
The law office of John F. Greene is located in the City of Destin and serves all those along the Emerald Coast, specifically the Destin, Crestview, DeFuniak Springs, Fort Walton Beach, Niceville and Panama City Beach. Contact John online or call 850-424-6833 to schedule a consultation.