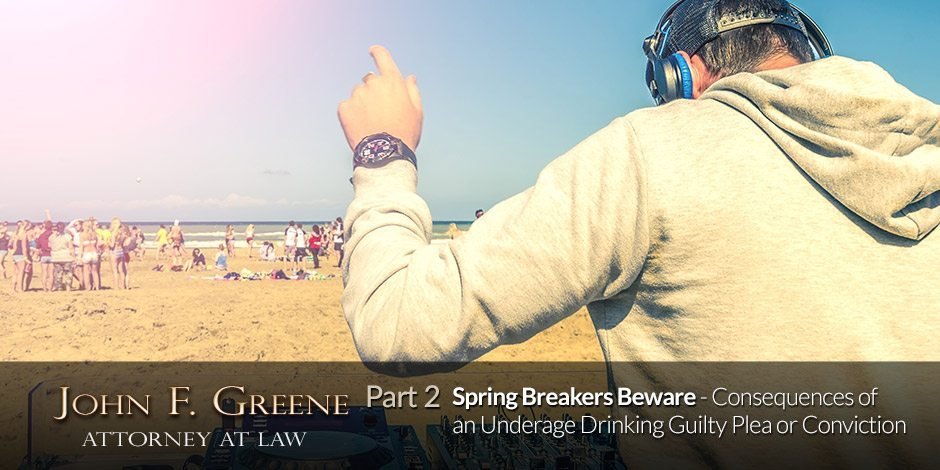 This blog post is part 2 of our Spring Break series. You can read the first blog post here.
If you have been cited or arrested for underage drinking it is important that you consult with an experienced attorney. The consequences of Florida underage drinking may lead to a conviction or guilty plea and can follow a person for years. A first offense is a second-degree misdemeanor punishable by up to 60 days in jail and a $500 fine. A second or subsequent offense is a first-degree misdemeanor punishable by up to 1 year in jail and a $1,000 fine. In addition, an adjudication of guilt will result in the suspension of your driving privileges by the Department of Motor Vehicles in your home state.
The natural inclination of most people who have been charged with underage drinking is to enter a plea and pay the fine in order to avoid having to return to Florida to appear in court. In fact, the Sheriff's Office attaches an information sheet to the citation that recommends doing just that. This is absolutely the wrong thing to do. Your case is a public record that can be viewed by school administrators, potential employers or military recruiters. The Sheriff's information sheet states that if you are asked on a job application, "Have you ever been convicted of a misdemeanor?" you can answer "No". This is misleading as applicants are now asked "Have you ever had adjudication withheld?"
Even if the Court accepts your plea and withholds adjudication, you will only be entitled to have your record sealed from public view, and will have to wait 10 years to have the records expunged. If the charge is dismissed prior to trial, or the prosecution deferred, you are eligible for an expungement without delay. This means that the records are physically destroyed or obliterated by the prosecutor and arresting agency. However, a confidential copy of the record will always be maintained by the Florida Department of Law Enforcement.
If you hire an attorney to represent you, in all likelihood, you will not have to appear in court in person. An experienced attorney will communicate with the State Attorney as soon as possible in an effort to dispose of the charge without adjudication.