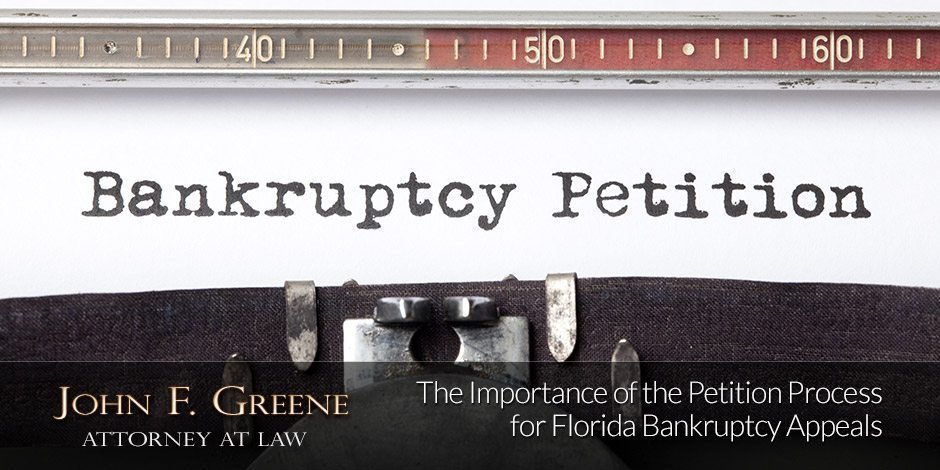 Failing to understand the importance of bankruptcy petition may cost you the right to appeal in state court. This is the takeaway lesson of the case of Hewett v. Wells Fargo Bank, N.A. as Trustee, No. 2D15–1074, 2016 WL 3065014 (Fla. 2d DCA June 1, 2016, which reminds Floridians of the need to work with a lawyer who understands Florida rules of judicial procedure and federal bankruptcy law.
In the case, filing a bankruptcy petition prevented a foreclosure defendant from having the ability to appeal a final judgment of foreclosure.
Significance of the Case
In this recent bankruptcy case, the circuit court issued a final judgment of foreclosure against the foreclosure defendant, Mr. Hewett, on February 27, 2015. Days later, on March 2, 2015, Hewett filed a bankruptcy petition with the United States Bankruptcy Court in the Middle District of Florida. A week later, Hewett filed a notice of appeal with a Lee County circuit court clerk, challenging the foreclosure judgment. The Second District Court of Appeals found that, had Mr. Hewett not filed a bankruptcy petition, his notice of appeal would have been timely filed. In other words, the Second District Court of Appeals would have had jurisdiction to hear Hewett's appeal, had he not filed a bankruptcy petition.
The court then proceeded to state that the notice of appeal filed by Hewett was in violation of the automatic stay, which is an automatic injunction which halts creditors from collecting debts against debtors who declare bankruptcy. This automatic stay goes into effect once an individual files a bankruptcy petition, as Mr. Hewett did. Since Hewett's subsequent appeal against the foreclosure judgment violated the automatic stay, the notice of appeal made by Hewett was null and void. As such, the court did not have jurisdiction to hear Hewett's appeal, and it was dismissed.
While the facts of this case may be complex, the lesson learned is actually quite simple. Reliable Florida bankruptcy attorneys will help bankruptcy clients avoid these terrible outcomes. For example, in this case, a prudent attorney would have informed Hewett to file his appeal first and then stay his own appeal by petitioning for bankruptcy. By doing so, Hewett's right to appeal would have been preserved rather than needlessly destroyed based on the procedural automatic stay violation.
---
Procedure matters, especially in bankruptcy, and an experienced Florida bankruptcy attorney is the best way to ensure you do not run afoul of any of these legal processes and procedures. John F. Greene is a Destin bankruptcy attorney who provides clients with the legal counsel needed to avoid the pitfalls of bankruptcy.
From his office in Destin, John F. Greene helps Destin residents and residents throughout the Emerald Coast and Northwest Florida with their bankruptcy cases, which includes Santa Rosa, Walton, Okaloosa and Bay Counties. He also helps residents in the Destin, Fort Walton Beach, Santa Rosa Beach, Niceville and Panama City communities through each stage of the bankruptcy process.
Contact Destin bankruptcy attorney John F. Greene or call 850-424-6833 to receive the legal counsel of a bankruptcy attorney who will help you avoid making mistakes that needlessly sabotage your bankruptcy proceeding.