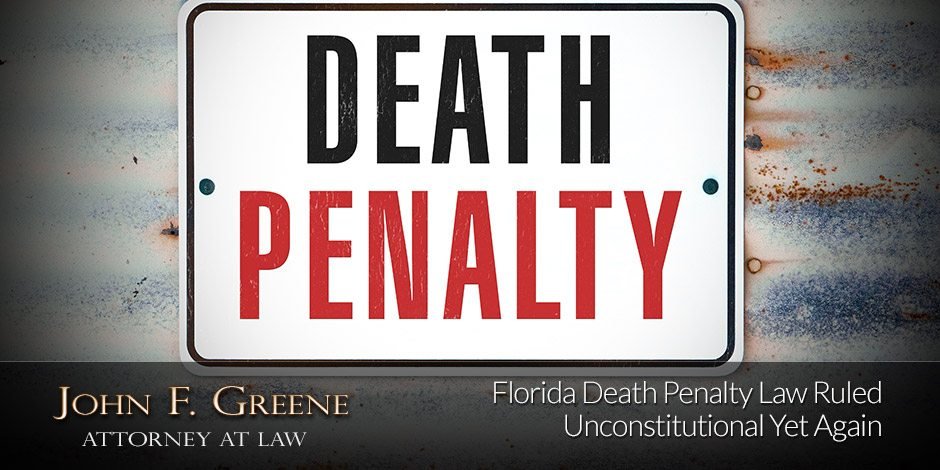 Once again, Florida's highest court held that the state's death penalty law is constitutional. This October ruling came after the state of Florida amended its previous death penalty law as a response to a recent U.S. Supreme Court decision.
In January of 2016, the U.S. Supreme Court ruled that Florida's unique capital sentencing system was unconstitutional. The Court found that Florida's death penalty law gave too much discretion to judges — and too little discretion to juries — when the death penalty is imposed. The Court's 8-1 opinion held that Florida's sentencing procedures are unconstitutional because judges, while making the final death penalty determination, should only make such a determination after giving "great weight" to the recommendations of jurors. In her opinion, Justice Sotomayor wrote that "a jury's mere recommendation is not enough", adding that death penalty sentencing should rely on jury verdicts and not fact-finding by a judge. Effectively, judges alone are not allowed to impose a death sentence without jury input.
In response to this influential Supreme Court decision, Florida lawmakers passed a new death penalty law, which was ultimately signed by Gov. Rick Scott in March of 2016. This new law forbade judges from imposing death penalties if those penalties were not also recommended by 10 out of 12 jurors. Despite the renewed attempts to preserve the death penalty by Florida lawmakers, Florida's highest court recently held the latest amendment unconstitutional as well.
Yet Again, Florida's Death Penalty Laws Run Into Legal Troubles
In October of 2016, the Florida Supreme Court found that allowing a "less-than-unanimous" jury to recommend a death sentence is incapable of being construed as constitutional. Precisely, Florida's highest court found that the new law was unconstitutional because it requires that only 10 jurors recommend death instead of the "constitutionally required, unanimous, twelve-member jury."
Since unanimity is required from jurors during other facets of Florida's sentencing processes — including agreement on facts that justify a death sentence in the first place — the Florida Supreme Court frowned upon the latest death penalty provision.
As a practical matter, this legal development means that Florida prosecutors have no legal avenue toward pursuing the death penalty. However, the matter is by no means settled. It took Florida lawmakers roughly two months to respond to the SCOTUS decision in January of 2016. A similarly hurried rush to amend the death penalty may be in the cards yet again. But for now, Florida courts are throwing out death sentences as the state's death penalty law continues to flounder.
---
If you have been charged with a Florida crime, you need a Florida criminal defense lawyer who fights to have your charges reduced and/or dismissed. From his office in Destin, John F. Greene defends the constitutional rights of criminal defendants in Destin as well as defendants throughout Northwest Florida and the Emerald Coast, which includes Santa Rosa, Walton, Bay and Okaloosa Counties. Additionally, John represents defendants in the Destin, Niceville, Fort Walton Beach, Panama City and Santa Rosa Beach communities.
If you need a Florida criminal defense attorney who will provide you with a strong legal defense against any and all criminal charges, contact attorney John F. Greene or call 850-424-6833.