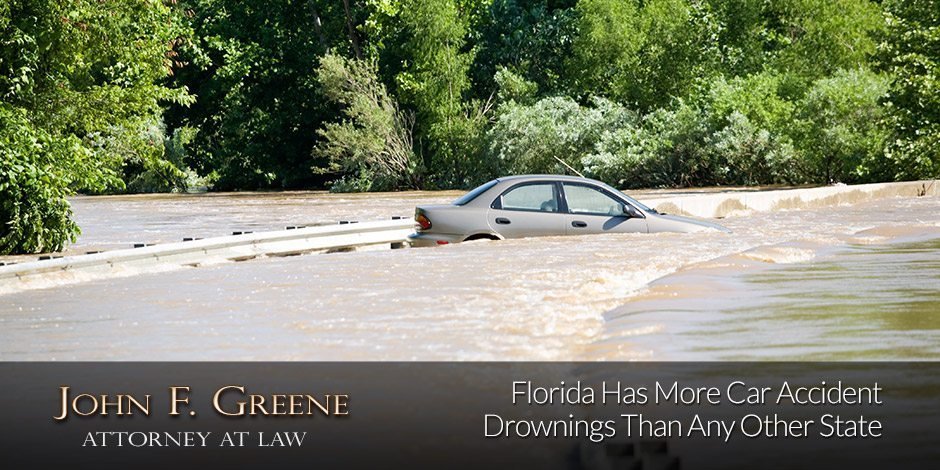 When you think of vehicular accidents that take place in water, Florida's high rate of boating accidents is likely the first thing that comes to mind. There is good reason for this, given that Florida leads the nation in boating accidents with 737 in 2015 alone. What may come as a surprise, then, is that Florida also has more car accident drownings than any other state.
Florida In-Car Drowning Accident Statistics
According to analysis conducted by the Orlando Sentinel, 49 Floridians drowned in cars from 2008 to 2012. Texas, the second highest state for motor vehicle drownings, suffered 18 drownings during the same period. Worse, the actual number of car accident drownings in Florida may be much higher than the Orlando Sentinel's findings.
In 2011, the National Highway Traffic Safety Administration (NHTSA) found that, from 2004 to 2007, there were an average of 57 vehicle drowning deaths in 2007. To arrive at these conclusions, the NHTSA leaned on data drawn from death certificates, which shed light on drownings that were not reported as a drowning death by law enforcement. Further, the NHTSA report also revealed that in-vehicle drownings account for 2.1% of all Florida's motor vehicle fatalities, which is twice as high as the national average.
There are a few reasons posited as to why Florida is at such high risk of in-vehicle drownings. According to Joe Santos, safety engineer for the Department of Transportation in Tallahassee, a primary reason for the prevalence of drowning accidents is that Florida has more miles of roads with water frontage when directly compared with other states. Others blame Florida's roadside canals and whether Florida's state and local governments have built enough guardrails that adhere to federal safety standards.
Florida is already dangerous enough for drivers since the state has the second lowest number of insured drivers in the nation, as well as the third most fatal car accidents in the nation at 2,228. Simply put, driving in Florida was already dangerous enough without adding an unprecedented risk of car drowning to the mix.
And, as mentioned, local and state government officials may bear some responsibility in car drowning deaths by failing to built enough guardrails that meet federal safety standards. Anyone who has lost a loved one to a car drowning accident or has been injured in a Florida car accident should talk to a Florida auto accident attorney to find out whether they are entitled to compensation.
---
John F. Greene is a Destin auto accident attorney who represents the victims of Florida auto accidents and fights for their right to receive deserved compensation whenever legally possible. From his Destin office, John represents accident victims in Destin as well as victims in Northwest Florida and the Emerald Coast, including Santa Rosa, Walton, Bay and Okaloosa Counties. John also represents Floridians injured in an auto accident in the Destin, Niceville, Fort Walton Beach, Panama City and Santa Rosa Beach communities.
If you need a Florida accident attorney who will hold any and all responsible parties accountable for your injuries or the loss of a loved one, contact attorney John F. Greene or call 850-424-6833.