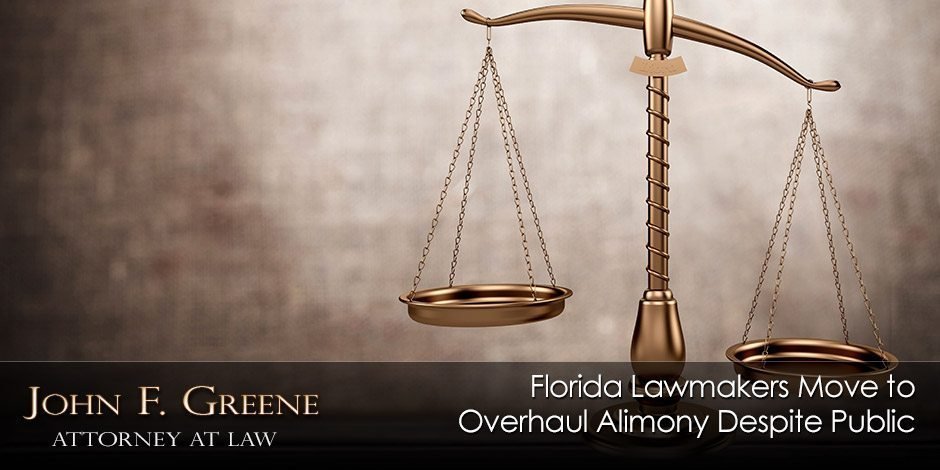 When there are legitimate reasons to suspect that bad things may happen to good people if a given bill is enacted, it is usually a good idea to nix the bill. Where alimony in the state of Florida is concerned, Florida lawmakers are thinking otherwise.
Controversy Surrounds Alimony Overhaul Bill
In November of 2015, the Civil Justice Subcommittee gave the go-ahead to HB 455, a proposal that would radically alter Florida's alimony structure. The bill, proposed to go into effect on October 1, 2016, was sponsored by Republican state representative Colleen Burton, and the bill passed along party lines.
The bill would likely increase the contentious rancor that already exists in the high-stress divorce environment, thanks to changes that would effectively end permanent alimony in Florida.
While this is the third time in recent years that the Florida legislature has attempted to change the alimony laws, and this bill seems to be the closest towards achieving that goal.
Ending permanent alimony is contentious in large part because of the typical interests of ex-spouses. The wealthier party, historically men, assert that permanent alimony is not a fair divorce outcome, whereas the lower earning spouse, historically women, argues that they should not be penalized for staying home, raising children and having difficulties when trying to find a job after years of effectively managing the home front.
While these changes will most likely be heralded as welcome news for wealthier spouses, a retired Florida circuit judge has seen enough. Retired judge Robert Evans of Orlando, a judge who presided over more than 25,000 divorce cases during his lengthy career, believes that the bill has
"…fundamental flaws that are going to hurt real people."
Some of the perceived harms include retroactive alimony modifications, the ending of alimony and alimony determined by a preset formula that establishes the amount of alimony and its duration.
Florida governor Rick Scott can be counted as another voice that opposes these potential changes to Florida alimony
Governor Scott vetoed a similar alimony bill in 2013, and objects to the unnecessary changes because Florida law already can adjust alimony amounts under proper circumstances.
In Governor Scott's view, the current alimony laws help ensure that spouses who choose family over career do not suffer financial ruin upon divorce. To do otherwise would punish such spouses for prioritizing their family.
Spouses who made decisions like Governor Scott described came forward to testify against the bill. One of those ex-spouses, Ann Dwyer, is a 70-year-old woman who must work three jobs in addition to her permanent alimony she receives to make ends meet.
On the other hand, the bill has its supporters as well. A representative for the Florida Bar's family law section has gone on record as supporting the changes. Activist Larry Rutan also supports the changes since income providers have, in his words, been "carrying the load" for themselves and exes for too long.
---
It remains to be seen what becomes of the proposed changes to Florida alimony, but Destin divorce attorney John F. Greene continues to monitor the latest Florida legal changes.
If you are in need of a divorce, contact John F. Greene  or call 850-424-6833 to speak with an experienced Destin divorce attorney who will fight for your right to receive deserved compensation for your contributions to your ending marriage. Attorney Greene can also help resolve complex divorce matters involving high net worth as well as military divorce.
His office is located in the City of Destin and he serves all those along the Emerald Coast, specifically the Destin, Fort Walton Beach, Niceville, Santa Rosa Beach and Panama City Beach areas.