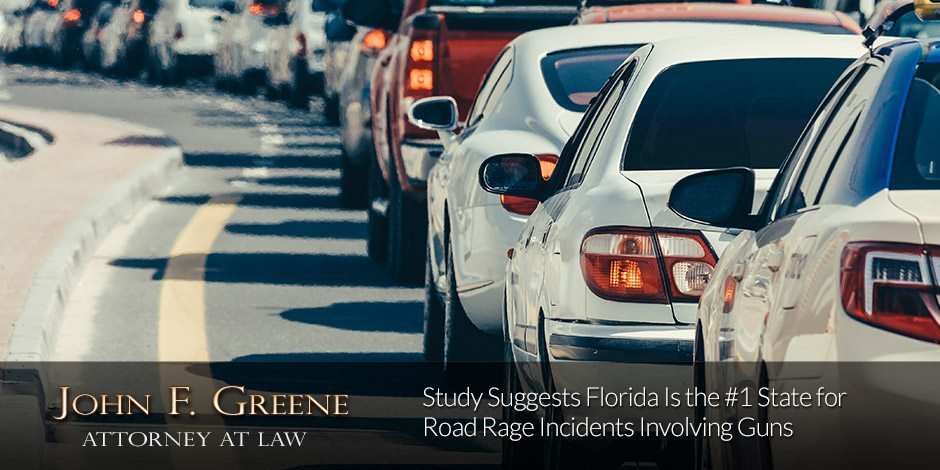 The first thing that probably leaps to mind when thinking about safety risks on the road is likely to be drunk drivers. This makes sense, as drunk drivers cause nearly 1 in 3 traffic deaths in the United States. Even so, road rage is another all too common road incident that needlessly jeopardizes the safety of Florida drivers and passengers alike.
According to the National Highway Traffic Safety Administration (NHTSA) data, 94% of all traffic accidents are caused by driver error. Of those accidents, 33% are traced to behaviors typically involved in road rage, including illegal maneuvering and misjudging another driver's intent. Further, SafeMotorist.com revealed that 66% of traffic deaths are caused by aggressive driving, and 37% of aggressive driving incidents involve a firearm.
It is the firearm statistic that is particularly eye-opening and troubling, especially in light of a recent study that reveals Florida has the worst gun-related road rage in the nation.
New Study Shows Florida Has a Serious Issue With Gun-Related Road Rage
The Trace, a nonprofit website that advocates for gun control, found that at least 620 gun-involved road rage incidents occurred in 2016. This figure is more than double the number of gun-related incidents recorded just two years prior.
Over this two-year period, Florida led the nation with the most gun-involved road rage incidents with 146. Perhaps related, Florida also has the largest number of residents who are concealed-carry permit holders. Some believe it is fair to question whether the high number of concealed-carry permit holders is somehow correlative to the scores of gun-related road rage occurrences.
Others dispute this connection, such as Senator Dennis Baxley, who is a staunch gun proponent. Sen. Baxley believes the blame is more accurately placed on drug use, not guns. Regardless of the cause, it is evident Florida has an issue with aggressive driving and gun-related road rage in particular.
---
If you or a loved one has been hit by an aggressive driver in a road rage accident, you may be entitled to legal compensation if you prove that the driver's negligence and aggressive driving caused your accident.
John F. Green is a Florida auto accident lawyer who has practiced personal injury law for more than three decades. From his Destin office, John pursues legal compensation for the victims of another driver's negligence and road rage in Destin as well as accident victims throughout Northwest Florida and the Emerald Coast, including Santa Rosa, Walton, Bay and Okaloosa Counties. John also helps accident victims pursue justice in the communities of Destin, Niceville, Fort Walton Beach, Panama City and Santa Rosa Beach.
If you need a Florida personal injury lawyer who will fight for your right to legal compensation after an accident, contact injury attorney John F. Greene or call 850-424-6833.