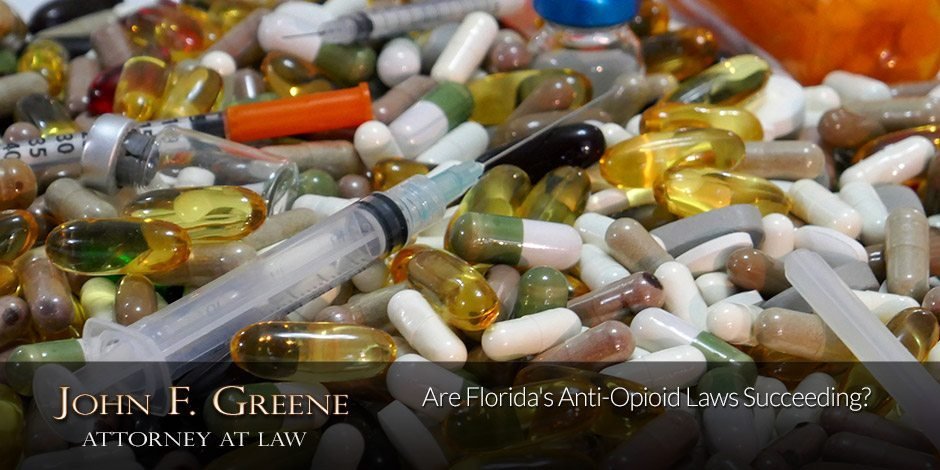 All laws, at least in theory, are created with the intention of improving the lives, safety, and welfare of the public. Florida passed its anti-opioid laws with similarly good intentions, hoping to take high-level opioid traffickers off the streets.
Years after Florida started its crackdown against opioids in the 1990s, there are reasons to suggest the anti-opioid initiative has been a failure.
History of Florida's Anti-Opioid Initiative
In the mid-1990s, Florida wrestled with an opioid epidemic that led Florida's Interstate 75 corridor to become known as the "Oxy Express". In 1993, prior to the opioid epidemic, Florida had done away with mandatory minimums for all but the most serious drug trafficking offenses. The opioid problem, however, led Florida lawmakers to reinstate the mandatory minimums in 1999.
The mandatory minimum reinstatement was meant to target high-level drug dealers. While major players may have been the target, the reality was low-level offenders bore the brunt of the mandatory minimum reinstatement, especially when looking at opioid arrests.
The 1999 reinstatement led to laws that required only about eight pills of oxycodone or hydrocodone to trigger a drug trafficking offense with a mandatory minimum of three years in prison. Worse, a person needed to merely possess or sell 28 grams of opioids to trigger a minimum 25 years and $500,000 fine. For reference, 28 grams is about 54 pills, which would translate to only around half of a month's prescription for a long-term pain patient.
The result of these laws has not been a crack down on high-level dealers, but it has led to a sharp uptick in the length of prison sentences for low-level offenders. Indeed, there were 2,310 Florida inmates serving sentences for opioid trafficking, and 63% of these inmates had never been to prison before.
The data overwhelmingly reveals that Florida laws have only succeeded in sentencing addicts or people who sold prescription drugs for side cash, not high-level dealers. In 2014, however, the Florida legislature did modestly increase the weight threshold needed to trigger the harsh sentences for trafficking opioids.
In addition to raising the weight threshold, the mandatory minimum sentence severity was reduced as well. While this change should help individuals charged under current Florida law, former offenders are unable to have their sentences reduced or reviewed.
Florida's Constitution places limits on the ability to retroactively change sentences based on new laws that relate to sentencing severity. In effect, new laws that cover classes of people who are serving sentences for the same offense cannot have the new laws applied to them. As such, the 2014 changes only apply to cases after July 1, 2014.
Still, if a Florida individual is caught possessing or illegally selling 14 grams (roughly 22 pills) of hydrocodone or 7 grams (roughly 54 pills) of oxycodone to receive a mandatory minimum sentence of three years.
The severity of these charges require a Florida criminal defense lawyer who aggressively protects your legal rights and raises a strong legal defense against all charges.
---
John F. Greene is a criminal defense lawyer who represents Northwest Florida criminal defendants from his Destin office. He also represents defendants throughout the Florida Panhandle and the Emerald Coast, including Santa Rosa, Walton, Bay and Okaloosa Counties. John also provides legal representation to Florida defendants in the communities of Destin, Niceville, Fort Walton Beach, Panama City and Santa Rosa Beach.
If you need a Florida criminal defense lawyer who provides criminal defendants with a strong legal defense against opioid charges, contact Destin defense attorney John F. Greene or call 850-424-6833.