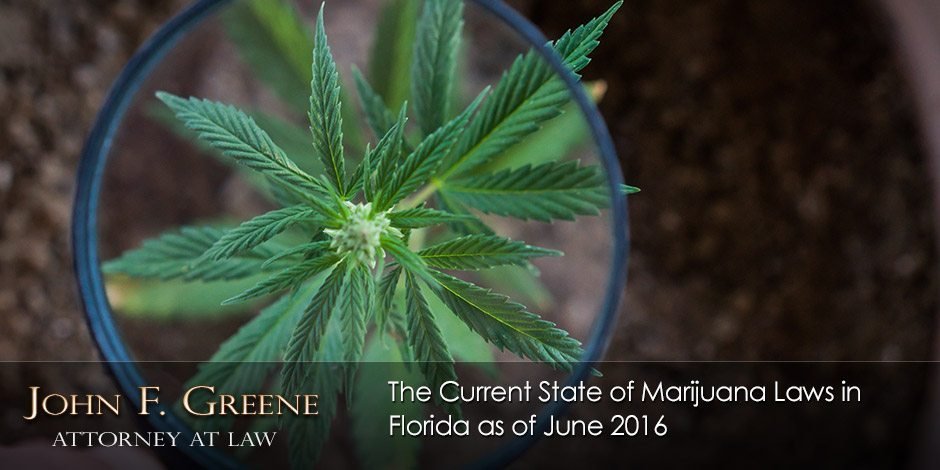 In the spring of 2014, Florida's legalization of medical marijuana came just shy of the 60% threshold needed to become a legal reality. Still, with 58% of Floridians supporting the constitutional amendment, the 60% benchmark was just out of reach.
In the years since, incremental steps have been taken to inch Florida closer to the legalization of medical marijuana. Some of the limited usages permitted for medical marijuana since the vote in the spring of 2014 included permitting the use of medical marijuana for children suffering from epilepsy and/or chronic seizures. Even these small movements of progress have been delayed by state agency rules and legal challenges surrounding the dispensation of medical marijuana.
Practically speaking, since the 2014 vote, little progress has been made. 2016 could be the year that proponents of medical marijuana have been hoping for, but opposition will be fierce.
Current State of Medical Marijuana Laws in Florida
In November of 2016, Floridians will have the chance to once again make medical marijuana a legal reality. The effort to legalize medicinal marijuana will be voted on under Amendment 2, and medical marijuana advocates are hopeful this is the year for a change in medicinal marijuana's legal status. Their optimism is grounded in the fact that a recent PPP poll indicated 65 percent of Florida voters support legalization, while only 28 percent are opposed. Additionally, a presidential election year turnout bodes well for the bill's passage, given the latest polling data.
Yet, as the law currently stands, it is illegal for most Floridians to use marijuana, even if they are using it for medicinal purposes. Individuals facing a marijuana conviction may be charged with simple possession or felony possession of marijuana, and each carry a range of penalties, punishments and fines.
For simple possession of marijuana, as outlined by Fla. Stat. § 893.13, a conviction results in a misdemeanor of the first degree that is punishable by up to one year in jail and/or a fine of $1,000. More serious felony possession charges may result if you are caught possessing more than 20 grams of marijuana. In such cases, convictions can lead to five years in a Florida state prison.
If you have been charged with a simple or felony marijuana charge for using marijuana medicinally in the state of Florida, you need a Florida marijuana defense lawyer who will provide the defenses you need against a marijuana charge. A proper defense could have your charges reduced or dismissed entirely. Some common defenses include:
Constitutional and/or procedural violations were committed (illegal search of your home, vehicle or person)
Failure to give a Miranda warning
Entrapment committed by law enforcement
Insufficient evidence
No constructive or actual possession
And more
---
From his Destin office, John F. Greene defends Destin residents who are charged with committing a marijuana offense that violates Florida law. Additionally, John represents marijuana defendants throughout Northwest Florida and the Emerald Coast, including Okaloosa, Walton, Santa Rosa and Bay Counties. He also represents marijuana defendants in the Destin, Fort Walton Beach, Santa Rosa Beach, Niceville and Panama City communities.
Contact John F. Greene or call 850-424-6833 to be represented by a marijuana defense lawyer who fights to get your charges reduced and/or dismissed.