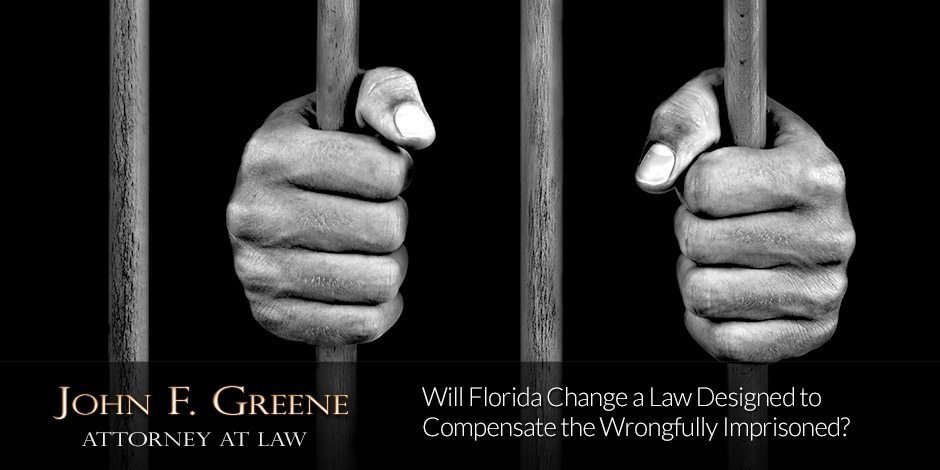 Current Florida law allows people who are wrongfully imprisoned and convicted in Florida to receive compensation, with one important exception. Namely, felons who have committed a felony either before or after the wrongful imprisonment are not eligible for this compensation.
However, lawmakers are ready to change this requirement, known as the "clean hands" requirement of wrongful compensation law. In April of 2017, the Florida Senate unanimously passed a bill that changes the clean hands requirement.
If the newly approved bill passes into law, all persons will be allowed $50,000 in compensation if they are proven innocent of a crime for which they were imprisoned. In effect, a single prior felony will not prevent someone for receiving compensation for a wrongful imprisonment. However, the new bill does not aim to undo all barriers to compensation.
If an individual has committed multiple felonies or a single violent felony, they could still be prevented from receiving compensation for being wrongfully imprisoned. Still, these changes would likely expand the number of people who are eligible to receive this relatively rare form of compensation.
While only four people have been compensated under the current law, but the newly approved bill hopes to expand this number. Of course, the best option for anyone who has been wrongfully accused is to seek the help of a trusted criminal defense lawyer capable of exposing the flaws in the prosecution's case.
---
Why You Need a Dedicated Lawyer for Your Criminal Defense or Wrongful Conviction Case
An excellent criminal defense gives defendants their best chance at never being wrongfully imprisoned in the first place. A criminal defense lawyer who is committed to your case and the pursuit of justice will pore over the evidence, thoroughly preparing a strong case in the client's defense.
If you have been wrongfully convicted, however, your criminal defense is not over. A Florida defense lawyer will fight to overturn your wrongful conviction by using all procedural avenues available. As such, your lawyer should be familiar with criminal, civil and/or administrative proceedings in both Florida courts and federal courts alike.
John F. Greene is just such an attorney, and he represents criminal defendants from his Destin office. John also represents criminal defendants and individuals who have been wrongfully convicted in Northwest Florida and the Emerald Coast, including Santa Rosa, Walton, Bay and Okaloosa Counties. John also fights to overturn wrongful convictions in the communities of Destin, Niceville, Fort Walton Beach, Panama City and Santa Rosa Beach.
Whether you need a legal defense against charges or a lawyer who will use every legal avenue to get your wrongful conviction overturned, John F. Greene is the lawyer your case needs. If you are ready to speak with a Florida criminal defense lawyer who represents his clients with compassionate and committed legal representation, contact Destin defense attorney John F. Greene or call 850-424-6833.