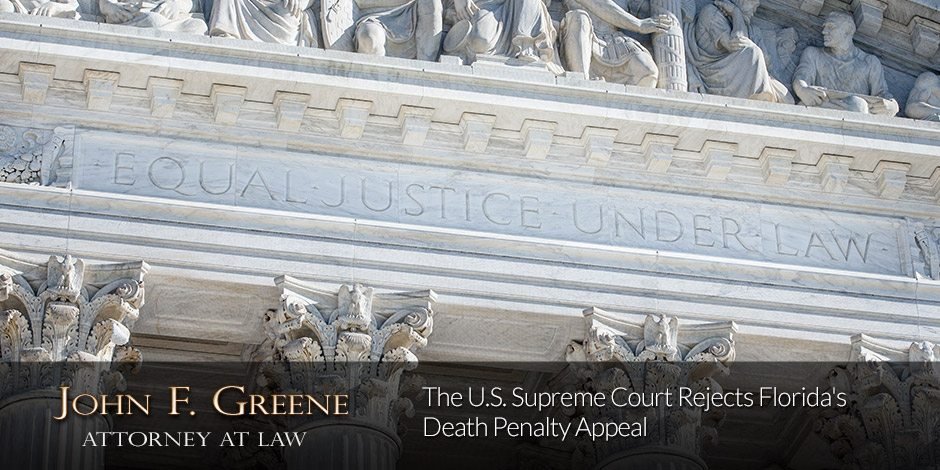 The U.S. Supreme Court has rejected Florida's death penalty appeal in what has been a turbulent legal saga. Florida had already undergone a year of legal certainty regarding its death penalty before Governor Scott signed a death penalty fix in March of 2017.
Governor Scott's latest fix required a jury to be unanimous in order to impose the death penalty. This fix was the latest effort aimed at resolving issues based on the Supreme Court striking down Florida's previous death penalty law as unconstitutional. Finally, however, it seems that the state has finally resolved its legal issues.
With the Supreme Court's refusal to grant "writ of certiorari" to U.S. Attorney General Pam Bondi's appeal of Florida's latest changes, it now seems that Florida's latest law is safe from further scrutiny. As such, the latest Florida Supreme Court ruling and subsequent fixes now say that juries must make unanimous recommendations before a judge can impose the death penalty. This standard is likely to hold now that the U.S. Supreme Court refused to hear Pam Bondi's appeal.
Implications of Florida's Latest Death Penalty Developments
While the latest news regarding Florida's death penalty is greatly important from a legal perspective, the reality is it should not affect too many Florida defendants. Since Florida reinstated the death penalty in 1976, the state has executed 89 inmates. There has been no year where more than eight inmates were executed.
Effectively, the death penalty will be pursued by prosecutors only for the most heinous and severe alleged crimes. Even so, defendants who are charged with the most severe crimes need a trusted Florida criminal defense lawyer capable of providing a strong legal defense. Whether a defendant is charged with a first-degree felony that can lead to 30 years or prosecutors seek the death penalty, the fact remains that an excellent legal defense is essential.
---
For severe Florida crimes, a defendant's freedom and future is at stake. John F. Greene is a Destin criminal defense lawyer who understands this and always strives to have a criminal defendant's sentence reduced. Whenever possible, John also fights to get the charges dismissed entirely.
From his office in Destin, John represents criminal defendants in Destin as well as persons in Northwest Florida and the Emerald Coast, including Walton, Bay, Okaloosa and Santa Rosa Counties. Additionally, John also represents defendants in the Niceville, Panama City, Fort Walton Beach, Santa Rosa Beach and Destin communities.
If you are in need of legal counsel and a dedicated criminal defense that gives you the best chance of having charges reduced or dismissed, contact Destin defense attorney John F. Greene or call 850-424-6833.