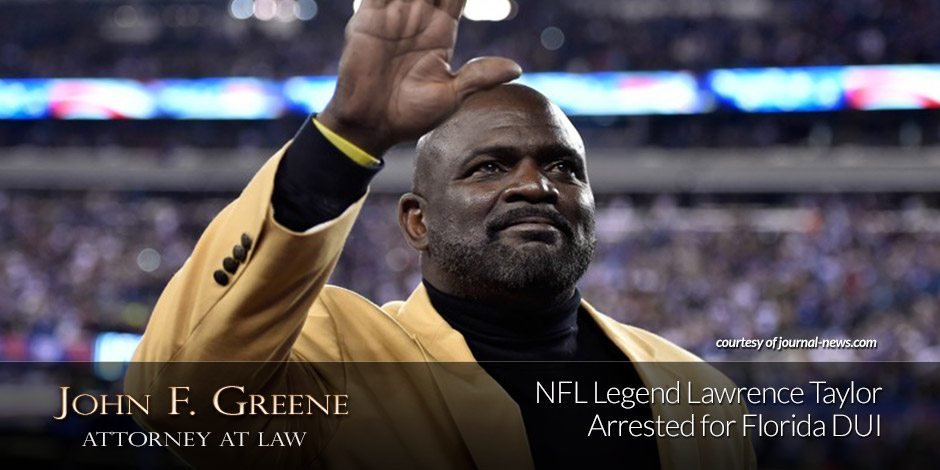 Few topics unify Floridians quite like the game of football, even if there is a clear divide between Hurricane, Seminole and Gator fans. As a result, Floridians are often familiar with the fact that some of their favorite athletes and coaches make headlines for all the wrong reasons, such as Florida State strength and conditioning coach Vic Viloria's recent DUI arrest over the summer.
Of course, a DUI can happen to anyone, even retired NFL Hall of Famers. NFL legend Lawrence Taylor is proof of this, as he was again arrested in Florida and charged with driving under the influence.
According to the arrest report, Mr. Taylor struck the right side of a mobile home and sideswiped a Florida Highway Patrol vehicle while driving under the influence. After performing poorly in three field sobriety exercises, Mr. Taylor was arrested. Taylor was later released under his own recognizance and was ordered to appear in Palm Beach County Court on September 28th, 2016. Taylor's charges were then elevated, leading to the possibility of serving two years of jail time.
While these occurrences are far from uncommon in the world of sports, DUI charges are also far from uncommon for ordinary Floridians.
DUI Facts and Statistics
According to Mothers Against Drunk Driving (MADD), the most recent year of data shows that 40,677 DUI arrests were made in Florida, which led to 26,291 DUI convictions. Just as important as the 26,291 DUI convictions are the 14,486 arrests that did not lead to a DUI conviction. As the Lawrence Taylor case demonstrates, a Florida DUI conviction can lead to significant amounts of jail time, which is why it is critically important to seek the counsel of a proven Florida DUI defense lawyer who will fight to have your charges dismissed or reduced.
The likely punishment for a DUI conviction will depend on whether the offense in question is a first offense or a subsequent offense. However, even for a first offense DUI misdemeanor (the least severe DUI charge), a conviction could result in:
Probation for up to 1 year
Jail time up to 180 days
Suspension of a Florida license for 6 months to 1 year
50 hours of community service
DUI school
More severe DUI offenses and/or second and third DUI offenses carry even greater legal consequences. As such, DUI defendants owe it to themselves to obtain legal counsel capable of providing them with the best possible legal defense.
---
John F. Greene is a Destin DUI defense attorney who protects the rights of DUI defendants and fights to have their charges dismissed or reduced. From his office in Destin, John provides legal representation and counsel for Florida DUI defendants in the Emerald Coast and Northwest Florida, including Okaloosa, Bay, Santa Rosa and Walton Counties. Additionally, he represents clients in the Santa Rosa Beach, Niceville, Fort Walton Beach, Panama City and Destin communities.
Receive the legal representation and DUI defense you need to protect your legal rights. Contact John F. Greene or call 850-424-6833 for a legal consultation to discuss the facts of your DUI charges.