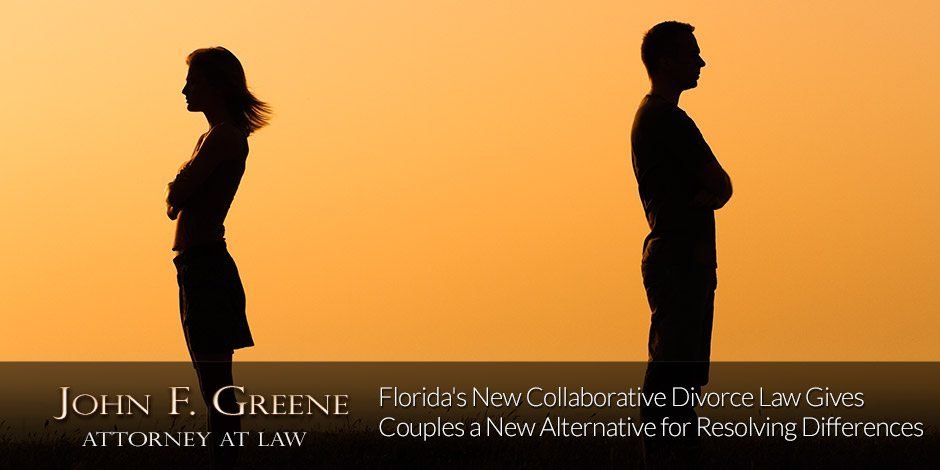 Pop culture and television shows alone have helped portray the divorce process as a feisty and combative ordeal that is something akin to bloodsport. While it is certainly true that some divorces are contentious and must be taken to court for differences to be resolved, it is also true that plenty of Florida divorces can be cordial and amicable in nature.
For the latter type of couple, it will come as welcome news that Florida's new collaborative divorce law has taken effect, placing renewed attention on a great divorce alternative for couples looking to resolve their differences outside of court.
Florida's Collaborative Law Process Act
The Collaborative Law Process Act took effect July 1, 1017, after the Florida Supreme Court adopted new rules outlining how the collaborative process should best proceed. These new legal developments will pave the way for a new collaborative process that will help Florida couples resolve their differences through voluntary settlement negotiations instead of relying on litigating their differences in court.
Previously, the collaborative divorce process existed outside of Florida law, meaning it was not officially recognized by state courts or the Florida Bar. The fact that the collaborative process is now officially recognized in the state gives the Florida court system the authority to actively support the collaborative process, which will likely ensure that more families are made aware of collaborative divorce as an option for resolving marital differences.
If more Florida families are made aware of these new legal changes to collaborative divorce procedures, it is likely that the families themselves will benefit from a kinder, gentler form of divorce. National research has long shown that collaborative divorce is capable of easing both financial and emotional stress, all while helping couples save money while resolving their marital differences.
The hope coming out of these legal developments is that more Florida family lawyers will inform couples of their legal options in Florida divorce. While collaborative divorce is certainly not for everyone, couples that can find common ground ought to consider whether a collaborative divorce is in their best interests as a family.
---
John F. Greene is a divorce attorney who helps clients resolve their issues in a way that is best for their family. From his Destin office, John helps clients navigate the hurdles of a divorce  in Northwest Florida and along the Emerald Coast, which includes Santa Rosa, Bay, Walton and Okaloosa Counties. John also represents clients in need of divorce or family law representation in the Destin, Niceville, Panama City, Fort Walton Beach and Santa Rosa Beach communities.
If you need a Florida divorce and are considering whether a collaborative divorce is best for your family, contact divorce attorney John F. Greene or call 850-424-6833 for a legal consultation.